Blog 14th August 2018
In this week's blog, I refer to: The Ministry for Housing, Communities & Local Government; Social Housing Green Paper; James Brokenshire MP; Local Government Association; Cllr, Judith Blake; Woking Borough Council; Sheerwater regeneration scheme; Carlisle City Council; Service Charges; Training & Seminars.
The Ministry for Housing, Communities & Local Government has finally published its Social Housing Green Paper today. It aims to rebalance the relationship between residents and landlords, tackle stigma and ensure that social housing can be both a stable base that supports people when they need it and support social mobility.
Residents across England have been asked for their views on social housing; almost 1,000 tenants shared their views with ministers at fourteen events across the country, with over 7,000 submitting their opinions, issues and concerns online.
The green paper sets out 5 core themes:
Tackling stigma and celebrating thriving communities
Expanding supply and supporting home ownership
Effective resolution of complaints
Empowering residents and strengthening the regulator
Ensuring homes are safe and decent
James Brokenshire MP, the Secretary of State for Housing, Communities & Local Government said that:
"Providing quality and fair social housing is a priority for this government. Our green paper offers a landmark opportunity for major reform to improve fairness, quality and safety to residents living in social housing across the country. Regardless of whether you own your home or rent in the social sector, residents deserve security, dignity and the opportunities to build a better life. With four million households living in social housing and this projected to rise annually, it's crucial that we tackle the issues facing both residents and landlords in social housing."
The government has launched a consultation alongside the green paper, that invites views on proposals for the future of social housing and will run until 6th November 2018.
The Local Government Association has said that the proposed reforms are:
"A small step compared with the huge and immediate need for more genuinely affordable homes."
And Cllr. Judith Blake (Labour), their housing spokeswoman said that:
"The government must go beyond the limited measures announced so far, scrap the housing borrowing cap, and enable all councils across the country to borrow to build once more. This would trigger the renaissance in council housebuilding which will help people to access genuinely affordable housing."
However, councils will be pleased that the Social Housing Green Paper confirms that the plan to oblige councils to sell high value council homes, that was legislated for in the Housing & Planning Act 2016, has now been abandoned.
Further information on the Social Housing Green Paper and the consultation is available on the government's website at: https://www.gov.uk/government/news/social-housing-green-paper-a-new-deal-for-social-housing
We published the August 2018 edition of the 'AWICS Housing News' yesterday. It contains articles on:
A New Vision for Sheerwater (Woking)
Rough Sleeping Strategy: Prevention, Intervention Recovery
What makes a good Complaints Policy and Procedure?
Carlisle Tenants' & Residents' Association thinks Carlisle City Council should set up a Local Housing Company
Social Security (Scotland) Act 2018
Early Intervention, Prevention and Support Grant in Wales
Treasury Management in Housing Associations
Service Charges in Social Housing
Your copy can be freely downloaded from here.
AWICS has been appointed as Independent Tenants' Advisor for the tenants of Sheerwater in Woking.
Plans to transform Sheerwater were approved by Woking Borough Council on Thursday 6th April 2017. By using the existing sense of community, the regeneration provides an exciting opportunity to create a thriving, balanced and sustainable community for the future that meets the housing needs of residents.
The regeneration will allow local people of all ages to benefit from high quality new homes, excellent leisure and retail facilities, open green spaces and improved transport links, as well as a local centre that blends social, retail, recreation and community uses.
It will also provide economic benefits for local people and businesses by offering local job opportunities and ensuring that much of the money spent on the scheme is spent with local companies.
A wide range of house types will ensure a choice of modern, spacious, energy efficient homes that are economic to maintain, and flexible enough to satisfy diverse and changing needs.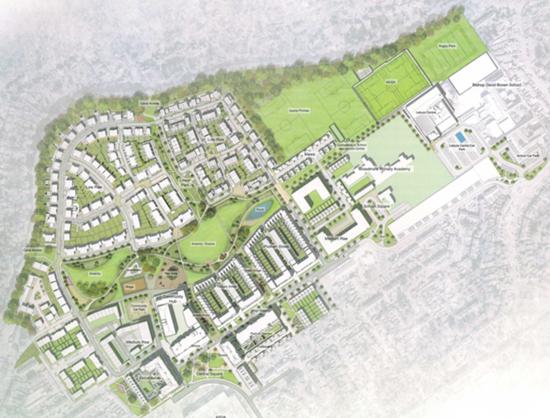 Map of Sheerwater in Woking
Our principal role as Independent Tenants' Advisors is to provide relevant, independent and confidential advice to secure Council tenants who are affected by the regeneration in Sheerwater. An Independent Tenants' Advisor is defined as:
"Independent impartial advice from a qualified organisation to ensure tenants have the information they need to make informed decisions on all issues affecting their homes and their lives."
The Community Charter for the Sheerwater Regeneration sets out Woking Borough Council's commitments to residents of Sheerwater who are affected by the regeneration. Under the Charter secure Council tenants affected by the regeneration programme will have access to advice through an Independent Tenant Adviser.
Any secure council tenant who lives in the regeneration area and who has questions or concerns about the Sheerwater Regeneration scheme should contact the Independent Tenants' Advisor for advice. We can be contacted free of charge by telephone or email as follows:
Please note that this service is only available to secure tenants of Woking Borough Council who live in Sheerwater.
For further information about the Sheerwater scheme and the role of AWICS as Independent Tenants' Advisor, please click here.
Our next seminar is on 'All You Want to Know about Service Charges in Social Housing' and will be held in London on 11th September 2018.
Service charges are an integral part of landlords' work in financing value for money services and sustaining customer satisfaction. They have always been relatively complex but with increased financial challenges and legal and financial complexity there is an increased need to understand how service charging works. This seminar gives an introduction and overview to this important subject and is fully up to date with all developments.
This seminar is proving very popular, but we still have a few places available. For more information or to make a booking, please click here.