Caldew Housing Association
Board Member Positions Available
Caldew Housing is a specialist housing provider which provides bespoke high quality social housing for vulnerable adults. We are currently developing the business and aim to operate around 10-15 properties over the next 5-10 years, supporting around 30 tenants whose needs range from mild Learning disability to more complex challenging issues.
Our primary location is Carlisle but we also aim to operate in rural and surrounding areas. We are a financially sound and well-run not for profit company and are positioned to grow and consider diversifying our services.
We are currently in the process of registration with Homes England and are now seeking to ensure a balance of skills and experience on the Board. We wish to appoint suitably qualified and experienced Trustees who will actively contribute their skills and experience, with an enthusiasm to enhance the services we provide.
We are looking for people who have the capability to operate effectively at a strategic level and have the time, passion and commitment to become a member of our Trustee Board.
Whilst we need Trustees who can steer the business on to its next stage of development supported by sound judgement and governance experience, there is more than one vacancy. We particularly wish to attract people who bring additional skills in the following areas:
Financial management experience – especially Housing Finance
Knowledge or experience of working with Local Authorities
Health or Social Care support services
Facilitating co-operation, engagement and partnership working in a social housing environment
Supported housing development or operations
If you can offer skills and experience in one or more of the above areas, have a passion for the delivery of quality services that we aim to provide and can work collaboratively in a team, we would like to hear from you. The roles require attendance to a meeting of the Board held quarterly and Trustees may be involved with other board matters and committees throughout the year including the Annual General Meeting. Salary negotiable depending on experience. Please contact Chris Thomlinson on christhomlinson@caldewhousing.org.uk or 07900-897403 for further discussion.
___________________________________________________________________________________
For more information or to make a booking, please click here: https://www.housing.org.uk/events/browse-events/housing-treasury-conference/
___________________________________________________________________________________
InfoBaseCymru
Data for an intelligent Wales
Do you need data at local authority level for Wales?
InfobaseCymru brings together statistics for Wales in an easy to use data portal, designed for you!
InfoBaseCymru
· is a freely available, national information system displaying publically available data from local area (lower super output area) level to local authority level for Wales
· provides easy access to a wide range of data for Wales. The data covers a range of topics including: people; employment; business; education; health; housing; environment; transport; and community safety
· presents data in reports, tables and maps which are all easy to export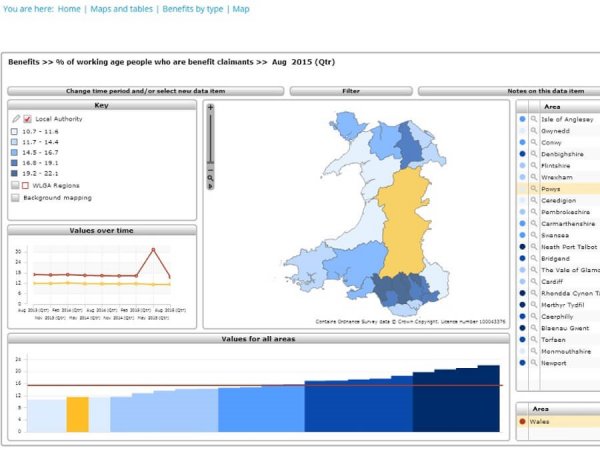 The portal is designed to provide you with the data you need for profiling your area, to underpin evidence based policy decisions and for funding bids.
InfoBaseCymru is web-based and is open for public use. Should you need it, we can also provide restricted shared access to specific data sets.
Please contact us and we will do our best to help you find the data you are looking for.
www.infobasecymru.net
InfoBaseCymru@dataunitwales.gov.uk
If you would like to place an advertisement please contact Adrian Waite at adrian.waite@awics.co.uk or 017683-51498.